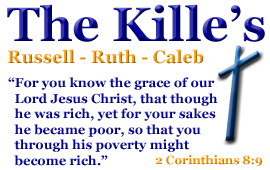 Our Resumes
Russell F. Kille
---
Professional Objective

Educational technology coordinator for school district in Northwest Ohio
---
Education
| | | |
| --- | --- | --- |
| Master of Educational Technology | University of Toledo | 9/96 to 5/99 |
| B.Ed. Secondary Math | University of Toledo | 6/87 to 6/93 |
| Diploma | Lake High School | 9/83 to 6/87 |
---
Work Experience
Toledo Christian Schools, 7/99 to Present
Technology Coordinator.
Owens Community College, 9/98 to 5/99
Part time teacher for the department of mathematics. Subjects include: Applied Algebra, Geometry and Trigonometry.
Cathedral Christian School 8/96 to 11/99
Full time Math, Science and Computer teacher for grades 9-12. Taught 6 classes with 6 preparations. Special responsibility as Math department chairmen.
University of Toledo, 9/98 to 5/99
Graduate Assistant. Duties included: Supervision and maintenance of campus computer lab.
Toledo Public Schools, Jones Jr. High 11/93 to 6/94
Full time 7th grade Math teacher. Taught 6 classes with one preparation.
The University of Toledo, Math Department 5/91 to 12/92
Tutor, grader and keeping track of student progress for a self-paced Intermediate Algebra course. Class size was approximately 100 students per quarter. Worked with one assistant and one supervisor.

The University of Toledo, Center for Physically and Mentally Challenged 9/91 to 12/92
Personal tutor for students with physical or mental disabilities. Subject areas included: Math (Basic through Calculus 6), Physics, Logic, and Astronomy.

Rossford McDonalds 6/87 to 9/91
Advanced to Assistant manager after 3 years. Responsibilities included: Supervision of personnel, handling of customer complaints, keeping track of currency and bank deposits, maintaining store equipment.
---
Special Skills
Computers
CopmTIA A+ Certified Computer Professional.
Large Scale Computer Networking experience including Watchguard Firebox and Cisco Routers
Experience with all Windows and Windows Server OS.
Experience with Microsoft Exchange 2000, 2003.
Programming experience in: BASIC, PASCAL, Visual Basic, HTML, SQL.
Experience in Web site design and Web server setup including searchable databases, message boards, web forms, chat rooms, SSL, and many more.
Experience with all forms of Distance Education including production of instructional television, and Web based courses.
Experience with thousands of software applications in education and business.
Have taught numberous technology classes to all grade levels from Kindergarten to PhD. students.

---
Personal

Activities
Member of University Bible Fellowship. (Part-time pastor)
Occasional volunteer work for Boy Scouts of America
Ohio Academy of Science (District Judge)


Interests
Computers, astronomy, reading, composing music and foreign culture.
In 1993 I lived in the former Soviet Union for 3 months as a missionary
affiliated with University Bible Fellowship Church.


Awards
University of Toledo Dean's list: Spring 1990,92,93,98 Fall 99
Ohio Academy of Science: Superior rating
Boy Scouts of America: Life Scout
McDonald's Olympic Challenge: Bronze Medal
National Rifle Association: Sharpshooter

Health
Excellent

_
Ruth Y. Kille
---
Professional Objective

An accountant in a business organization.
---
Education
The University of Toledo
Taxation Major - Master of Science in Accountancy

Accounting Major - Master of Science in Accounting - July 1994 GPA. 3.52

Providence University - Taiwan, Republic of China - G.P.A. 3.8
Business Administration Major - Bachelor Degree - June 1991
Honors: Five scholarships based on excellent academic performance and achievements


---
Work Experience
Long Term Positions
Gilmore, Jasion & Mahler, LTD. - 1/05 to present


Tucker, Stein, Kissling & Buetel Inc. - 10/98 to 12/04
United Way of Greater Toledo - 10/94 to 8/96
Bookkeeper

Using AS400 to prepare monthly income statement, balance sheet, and trial balance

Using LOTUS 1-2-3 to prepare financial reports, analyzing budget and actual expenses

Using One-Write Plus accounting package to install accounting system and generate
accounting information for accounts receivable, accounts payable and payroll

Reconciling bank statements for 3 accounts monthly

Issuing the checks and preparing invoices

Temporary Jobs Through Temp Agencies
Account Temp, Richman, and AIM Executive Sev.

Sunrise Care & Rehablitation Inc.
Applying GAAS auditing procedures to audit daily and monthly resident accounts

Reconciling residents accounts and check account balance

Using Quicken accounting software and Excel v.7.0 to prepare financial statements


Family Health Plan, Inc.
Upgrading and confirmation accounting system to new computer database

Posting monthly canceled check


Autumnwood of Sylvania
Reconciling monthly and yearly residents account and check account balance

Using Excel 7.0 to prepare monthly residents report and petty cash balance

Auditing monthly activities and financial information regarding residents' trust fund


City of Toledo: division of Taxation, and Finance
Clerk of finance and taxation

Secretarial office work


Envirosafe Services of Ohio, Inc.
Preparing vouchers, processing purchase order releases, recording check requests and
monthly check remittance

Data Entry

---
Other Experiences / Skills




Volunteer Income Tax Assistant for I.R.S. - 1994, 95, 97

Internal Campaign Co-Chair for United Way - 1996

Member of the AICPA and the Institute of Management Accountant - 1997 to present

Treasurer of the Beta Alpha Psi National Accounting Fraternity - 1997, 98

Graduate assistant in accounting department of the University of Toledo - 1997

Experience with Windows 95, SBT Accounting software and ITS accounting package